Who We Are
We're a small port ministry with a big heart!
Albany Maritime Ministry is an ecumenical group of volunteers who offer a warm welcome to seafarers that dock in the Capital District of upstate New York. Our hub is located at the Seafarer Center in the Port of Albany.
Most of the seafarers we meet have been at sea for weeks or months. They face numerous challenges, such as isolation, separation from family, hard labor and sometimes human rights violations. We attempt to offer relief and support by:
Welcoming them on their ships.
Addressing their spiritual, family and material needs.
Offering special programs such as Christmas at Sea.
Advocating for their rights.
Collaborating with agencies worldwide.
Albany Maritime Ministry was incorporated as a non-profit 501(c)(3) entity in 1996.
Please contact us if you would like us to speak at your church or organization event about the plight of the seafarer and the positive impact of maritime ministry.
See a YouTube video about our volunteers at:
Albany Maritime Ministry - Serving a Small Port with a Big Heart
Christmas at Sea Photos
During the Christmas season, we collect gifts from area churches and distribute them
to seafarers who come to our ports. See Programs/Services for details.
The picture below shows a volunteer delivering gifts to seafarers who were unable to leave their ship in 2014.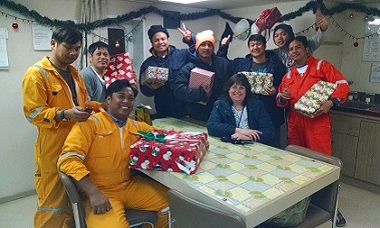 The next picture below shows seafarers and a volunteer with our chaplain
and director, Reverend William G. Hempel (third from your left) in 2005.
Reverend Hempel is pastor emeritus of St. Paul's Evangelical Lutheran Church
in Albany, New York.